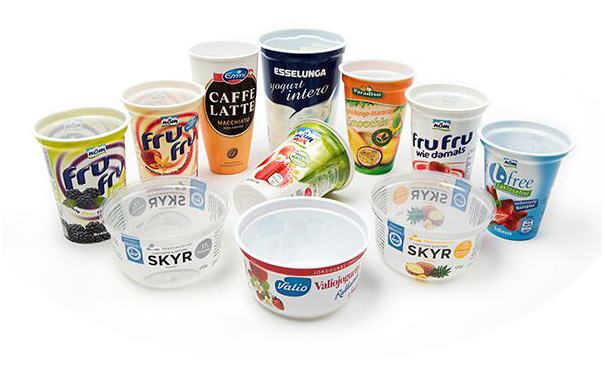 Shrink Label Sleeve Applied On Cups
Compared to printing ink directly on polymerics (PP, PS) cups , cups with heat shrink label film (PVC,OPS)the high quality printing gives an outstanding and attractive appearance to polypropylene cup, promoting the products used mainly for dairy industry, among others for yogurts, ice cream,snacks, cheese and desserts.
With more than 10 years experience in cup sleeve, as the top manufacturer in china for cup shrink label sleeve applicator machine ,we provide good ,unique and high quality cup shrink label sleeve label packaging solution for customers all over the world. Our cup shrink label packaging solution will give customer package brightness, practicality and exclusivity.
We believe that the cup with heat shrink label is the future packaging trends on PP/PS cups . Customer prefer good looking , colorful,pretty and attractive design on cups with shrink label.
Auto Cup Shrink Label Sleeve Line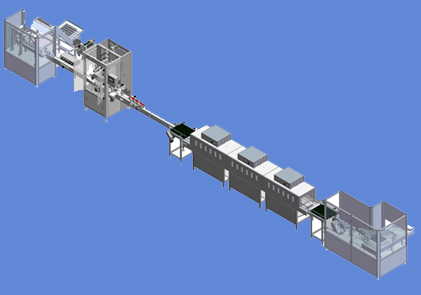 The advanced and professional automatic shrink label packaging production line for plastic thermoforming or injection cups which is widely used in yogurt ,ice cream,dairy,snacks ,cheese,etc. With this automatic line, customers will greatly save manufacturing cost and improve production efficiency

Automatic Cup Feeder

Automatically sending cups into the cage , and separate the cup stack into single cup one by one by screws. Cups will continue to sleeve and shrink application .
Tremendously raise the efficiency of cup feeding and save labor cost ,No more manually cup putting.

Automatic Cup Restacker (collector)

After the cups label shrinked by the heat shrink tunnel , the cup will continue to be conveyed
to the auto cup collector one by one,and formed into cup stack again automatically.
Tremendously raise the efficiency of cup restacking and save labor cost ,No more manually cup collecting.
ABOUT US
XINHUA was founded in 2006 in Shanghai China and
celebrated its 10th anniversary in 2016 as a Chinese leading
manufacturer of shrink sleeve applicators, and heat shrink
tunnels for the worldwide packaging industry.
Address:4 Bulding, No.8885, Puxing Highway,Fengxian District,
Shanghai, China .
Tel: 0086-21-57470920.
Fax: 0086-21-57470922.
Contact Person£ºRay
Mob and Whatsapp£º+86-13381752032
Skype: rayxinhua
Email£ºshleeve@126.com¡¡¡¡Ray@sleeve-labeling.com